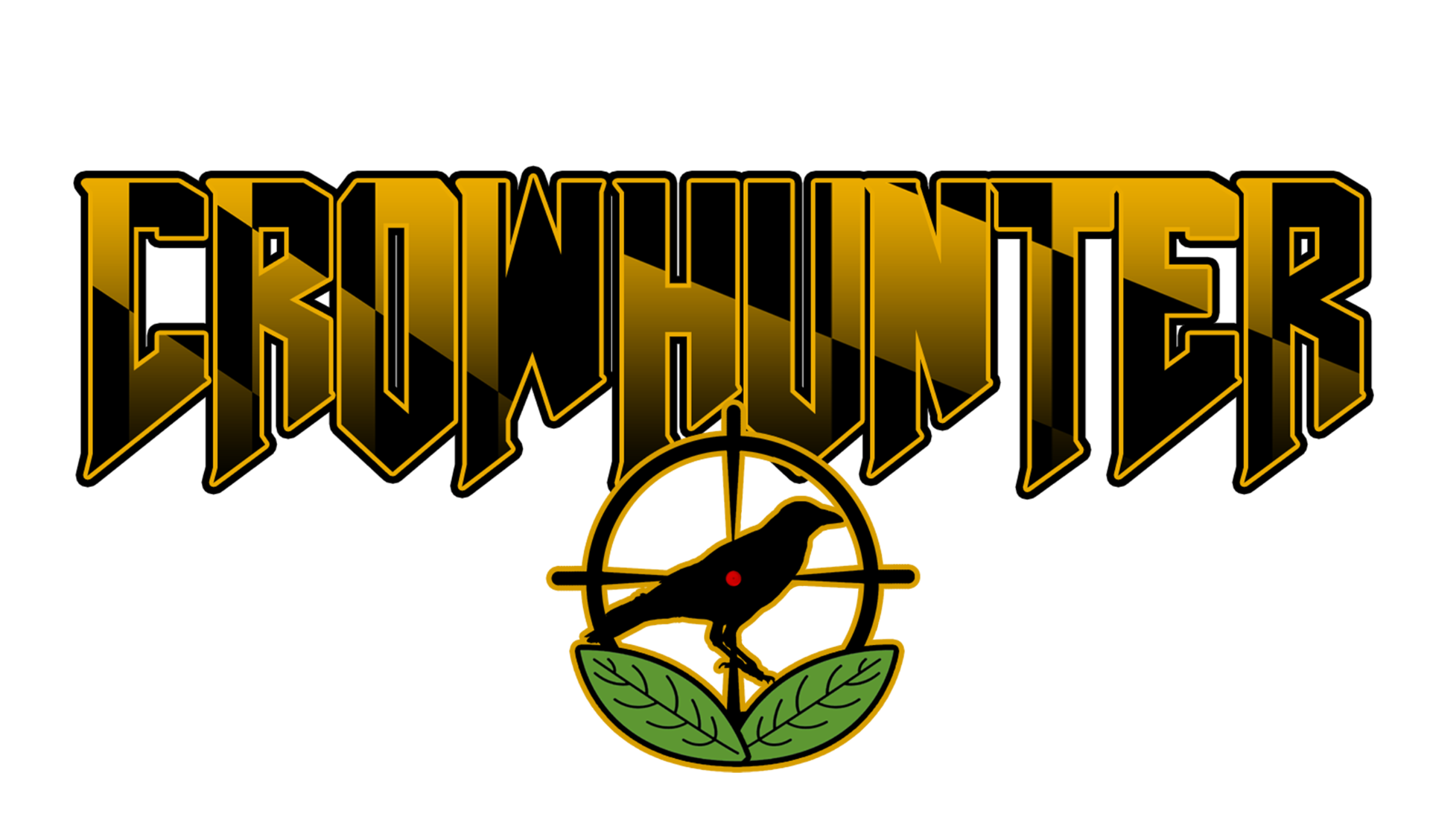 LATEST NEWS
NEW MERCH IN OUR STORE AVAILABLE FOR PURCHASE!
UPCOMING SHOWS
NOV
28
Death Metal Clout: Chuck Schuldiner's Fans Bash
Sat 6 PM
Halftime Sports Bar & Music Venue
Newark, DE
NEW MUSIC VIDEO
ABOUT US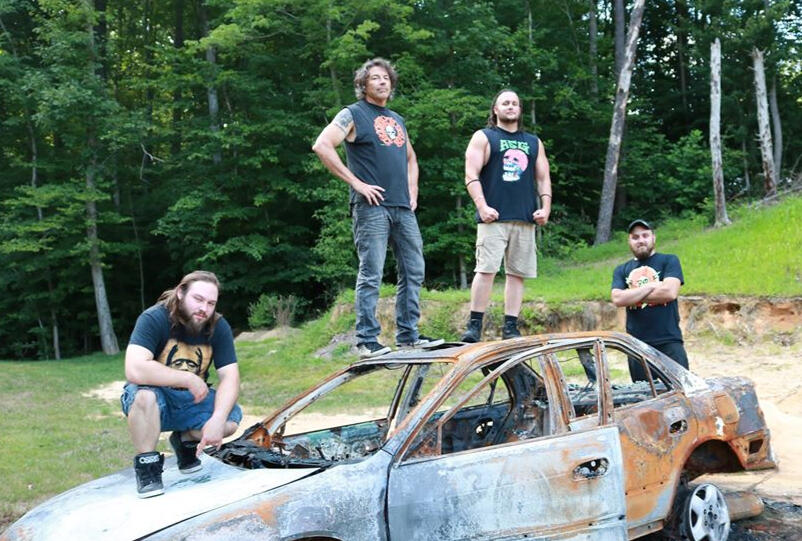 Formed in rural Calvert County, Maryland (A distant suburb of the nation's busy capital, Washington D.C.) Crow Hunter was formed out of a mutual love for all things rock and roll. Adding elements from stoner rock, southern rock, groove metal and punk rock the band does not fit into any one category, a mixture in part due to the diversity of its members and their own musical backgrounds.

A guitar riff oriented band with anthemic lyrics and catchy, head-bobbing hooks, Crow Hunter is a band that demands crowd participation and energy. The band has no problem wearing their influences on their sleeves. Inspired by, but not limited to bands like Down, Pantera, Corrosion of Conformity, Clutch, ASG, Weedeater, Karma to Burn, The Offspring, Pennywise, Lynyrd Skynyrd, and Black Sabbath just to name a few. Crow Hunter is an intense live act that will always leave you wanting more!
---
contact us
TOUR(HISTORY)
OCT
31
Halloween Meltdown!
Oct 31 - Nov 1
KC's Music Alley At Central Station
Fredericksburg, VA
.
OCT
24
Tribes MC Smash the Pumpkin Jam
Sat 3 PM ·
103 Friendship Rd, Friendship, MD 20758-9747, United States
.
SEP
26
RoachFest 2020!
Sat 2 PM ·
2580 Solomons Island Rd, Prince Frederick, MD, 20678
.
SEP
19
The Three Masketeers Social Distance Rock Show
Sat 7:30 PM
Anthony's Bar and Grill
Dunkirk, MD
.
SEP
11
9th Annual Chuck N Christy's Backwoods Bash And Toy Drive
.
AUG
22
SOMD Summerslam 2020!
.
MAR
27
Indianhead at Fish Head Cantina
Fri 7:00 PM EDT · 53 guests
Fish Head Cantina
Baltimore
.
MAR
7
Southern rock on the water 2. No cover
Sat 8:00 PM EST · 89 guests
Blair's Londontowne Pub and Grill
Edgewater
.
FEB
14
Punk Drunk Love at Corner Grille - Valentines Day Show
Fri 7:30 PM EST · 92 guests
Corner Grille of Shady Side
Shady Side
.
FEB
1
Ohio for Metal Festival
Sat 4:00 PM EST · 157 guests
.
JAN
31
HPUSA presents Crow Hunter w Meatplow, 13:1 and SharkBullet
Fri 8:00 PM EST · 112 guests
AstroMonster Records
Collingdale, PA
.
JAN
25
Stone the Crow - Part 2 - Album Release Party
Sat 7:30 PM EST · 156 guests
.
JAN
18
Stone the Crow - Part 1 - Album Release Party
Sat 7:30 PM EST · 183 guests
.
DEC
28
Southern Rock on the water!!
Sat 8:00 PM EST · 73 guests
.
DEC
28
Indianhead and Crow Hunter at Blair's Londontowne Pub and Grill (December 28, 2019)
Sat 7:00 PM EST · 10 guests
.
DEC
21
Slam the Xmas Tree Part 2-No Cover-Free Show
Sat 4:30 PM EST · 332 guests
The Tavern
Saint Leonard
.
NOV
1
Crow Hunter, Bad Time,Late Night Passenger, The Adulting Rejects
Fri 7:00 PM EDT · 44 guests
Fish Head Cantina
Baltimore
.
OCT
26
Tribes Motorcycle Club Halloween & Costume Party
Sat 7:00 PM EDT · 127 guests
103 Friendship Rd, Friendship, MD 20758-9747, United States
.
OCT
19
City Slicks and Southern Hicks at Corner Grille of Shady Side
Sat 7:30 PM EDT · 148 guests
Corner Grille of Shady Side
Shady Side
.
SEP
21
Eyes of the South Rock Show
Sat 9:00 PM EDT · 161 guests
.
SEP
15
Brant Bjork, Ecstatic Vision, Foghound, Crowhunter, more 9/15
Sun 7:30 PM EDT · 265 guests
Ottobar
Baltimore
.
SEP
13
Metal Massacre w/, The Electric Prophets, Scissorfist w/ guests
Fri 8:00 PM EDT · 80 guests
Reverb
Baltimore
.
SEP
7
L&B RZ Night Vol 2
Sat 9:00 PM EDT · 58 guests
L & B's Sports Bar
Woodbridge, VA
.
AUG
24
Sexy Sal's Mystery Show at The Tavern!
Sat 7:30 PM EDT · 211 guests
The Tavern
Saint Leonard
.
AUG
10
The DEVIL IN DELCO
Sat 7:00 PM EDT · 123 guests
AstroMonster Records
Collingdale, PA
.
JUN
8
MantaFest at Henny Macks!
Sat 7:00 PM EDT · 243 guests
Henny Macks Inn
Glen Burnie
.
MAY
18
Anthony's Spring Throwdown - May 18th 2019
Sat 9:00 PM EDT · 117 guests
.
MAY
16
The Obsessed & Sinister Haze Crowhunter The Druids @ the pinch
Thu 7:00 PM EDT · 343 guests
The Pinch
Washington D.C.
.
MAY
11
Kryptfest
Sat 7:00 PM EDT · 70 guests
THE DEPOT
.
APR
27
Marc Rizzo of Soulfly returns to Reverb
Sat 8:00 PM EDT · 79 guests
Reverb
Baltimore
.
APR
20
4/20 at The Tavern
Sat 8:00 PM EDT · 185 guests
The Tavern
Saint Leonard
.
MAR
24
East Coast's Original Metal Battle Of The Bands! at Soundstage
Sun 4:00 PM EDT · 276 guests
Baltimore Soundstage
Baltimore
.
MAR
23
March Mayhem Monsters of Metal
Sat 7:30 PM EDT · 152 guests
.
FEB
23
Metal Mania at Corner Grille of Shady Side
Sat 8:00 PM EST · 153 guests
Corner Grille of Shady Side
Shady Side
.
FEB
17
Metal night at The Loudoun Kitchen & Bar
Sun 5:00 PM EST · 130 guests
The Loudoun Kitchen & Bar
Leesburg, VA
.
FEB
9
Rock 'n' Roll
Sat 7:00 PM EST · 94 guests
Sparta Inn
Sparrows Point
.
JAN
19
Anthony's Southern Rock Show
Sat 9:00 PM EST · 258 guests
.
JAN
6
The New Year Kick-Off at Soundstage
Sun 5:00 PM EST · 82 guests
Baltimore Soundstage
Baltimore
.
DEC
22
Slam the XMAS TREE - A Merry Metal Christmas at The Tavern
Sat 7:30 PM EST · 180 guests
The Tavern
Saint Leonard
.
NOV
23
5 South Black Friday Special
Fri 7:00 PM EST · 133 guests
5 South Event Center
Callaway
.
NOV
3
Guy Faux Part Deux
Sat 5:00 PM EDT · 187 guests
The Hollywood Hill
Hollywood
.
OCT
4
Hed PE at Fish Head Cantina!
Thu 7:30 PM EDT · 313 guests
Fish Head Cantina
Baltimore
.
SEP
22
Local Band Showcase Day 2
Sat 5:30 PM EDT · 170 guests
5 South Event Center
Callaway
.
SEP
15
EyeHateGod, The Obsessed Tombs 9/15
Sat 7:30 PM EDT · 588 guests
Ottobar
Baltimore
.
SEP
8
Marc Rizzo of Soulfly with Special Guests
Sat 9:00 PM EDT · 82 guests
Reverb
Baltimore
.
SEP
6
Prince George's County Fair 2018
Sep 6, 2018 - Sep 9, 2018 · 19,629 guests
The Show Place Arena
.
AUG
25
Pistol Creek Gang Reunion Show
Sat 8:00 PM EDT · 111 guests
Corner Grille of Shady Side
Shady Side
.
AUG
11
SOMD Super Groups Rock Show at The Tavern
Sat 8:00 PM EDT · 187 guests
The Tavern
Saint Leonard
.
JUL
28
Southern Maryland Hooligans "Rock Show"
Jul 28, 2018 - Jul 29, 2018 · 141 guests
.
JUL
15
Maryland Life Fest
Sun 12:00 PM CDT · 72 guests
TheDepot Baltimore
Baltimore
.
JUL
14
Summer Metal Massacre
Sat 8:00 PM EDT · 38 guests
Reverb
Baltimore
.
JUN
30
Triple M Fest Day 1 at Fish Head Cantina
Sat 1:00 PM EDT · 68 guests
Fish Head Cantina
Baltimore
.
MAY
5
Bleeding Black, Truth N Tempest, Bad Habit at Fish Head Cantina!
Sat 7:30 PM EDT · 45 guests
Fish Head Cantina
Baltimore
.
APR
21
METAL SATURDAY with Impact & Friends!
Sat 7:00 PM EDT · 199 guests
.
APR
7
Local Metal at 5 South
Sat 7:30 PM EDT · 262 guests
5 South Event Center
Callaway
.
MAR
9
South County Jams in Shady Side
Fri 8:00 PM EST · 46 guests
Corner Grille - 6127 Cedarhurst Rd, Shady Side, MD 20764
.
FEB
23
"The Wild Wild West Street"
Fri 8:00 PM EST · 24 guests
Metropolitan Kitchen and Lounge
Annapolis
.
FEB
9
Metal Night At Bomba's
Fri 8:00 PM EST · 33 guests
.
FEB
2
Katanga at Fish Head Cantina!
Fri 7:30 PM EST · 62 guests
Fish Head Cantina
Baltimore
.
JAN
13
SOMD Heavy Weights - Rock Show
Sat 9:00 PM EST · 119 guests
10371 Southern Maryland Blvd, Dunkirk, MD 20754-9500, United States
.
DEC
28
The Ugly Sweater Party @ Metropolitan Kitchen & Lounge
Thu 7:30 PM EST · 89 guests
Metropolitan Kitchen and Lounge
Annapolis
.
DEC
15
Sledgehouse Reunion Show
Fri 8:00 PM EST · 55 guests
Reverb
Baltimore
.
DEC
8
Black River Bloodbath/ Crow Hunter / Infinite Solutions /Encasing Embrace
Fri 7:00 PM EST · 60 guests
Cafe 611
Frederick
.
NOV
26
The Mobtown Throwdown
Sun 5:00 PM EST · 118 guests
Ottobar
Baltimore
.
NOV
10
Frederick Fest Day 1 at Cafe 611
Fri 6:00 PM EST · 91 guests
Cafe 611
Frederick
.
OCT
10
Phantoms/End The Empire/Set For Tomorrow/Black Rose/ & more!
Tue 8:00 PM EDT · 100 guests
Metropolitan Kitchen and Lounge
Annapolis
.
SEP
29
Crow Hunter, MOLLDYER + more at The Pinch
Fri 8:00 PM EDT · 20 guests
The Pinch
Washington D.C.
.
SEP
2
Park Rock Fest 2017 ft. Palisade and Convictions in Southern MD
Sat 11:00 AM EDT · 179 guests
42455 Fairgrounds Rd, Leonardtown, MD 20650, United States
.
JUL
22
SoMd Music: A New Hope
Sat 9:00 PM EDT · 71 guests
.
JUN
17
Battle of the Bands $1,000 Cash Prize
Jun 17, 2017 - Jun 18, 2017 · 135 guests
---